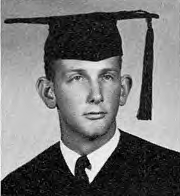 The Department remembers SDSU alum and Chemistry Professor (1970-2000) Larry Bennett
.
Announcements
Accepting applications for: Tenure-track Faculty Position in Biochemistry.
Congratulations to David Marelius of the Grotjahn lab for being selected by the International Precious Metals Institute (IPMI) to receive its annual Richard Rubin Memorial Graduate Student Award sponsored by Republic Metals Corporation. The prize of $5,000 was established to recognize and encourage outstanding work by a graduate student in precious metals research. David's research includes catalysis of water splitting for clean energy.
Check out the Department's Facebook page! (With thanks to Prof. Chris Harrison.)
Upcoming Events
| | |
| --- | --- |
| Oct 24 | Dept. Seminar – Dr. Olga Mukhina, University of Denver, GMCS-301, 4:00 PM |
| Oct 31 | Dept. Seminar – Dr. Nathan Schley, California Institute of Technology, GMCS-301, 4:00 PM |
| Nov 01 | Association for Women in Science panel discussion for women undergraduates interested in STEM careers (register by Oct 30) |
| Nov 07 | Dept. Seminar – Prof. Peter Iovine, University of San Diego, GMCS-301, 4:00 PM |
| Nov 11 | Veterans Day, campus closed |
| Nov 14 | Dept. Seminar – Prof. Joann Um, Southwestern College, GMCS-301, 4:00 PM |
Department Contacts
Department Chair: William G. Tong
Undergraduate Advisor: David Pullman
Graduate Advisor: Thomas Cole
Graduate Admissions: Douglas Grotjahn

Follow us on Facebook
Thank you!
Recent donors to SDSU Chemistry & Biochemistry
Mr. Jay Breaux
Richard L. Jenkins, Ph.D.
BlueDoor LLC
---
Main Office: GMCS 209 • 5500 Campanile Drive • San Diego, CA 92182-1030 (U.S.A.) • Phone: (619) 594-5595 • Fax: (619) 594-4634
---